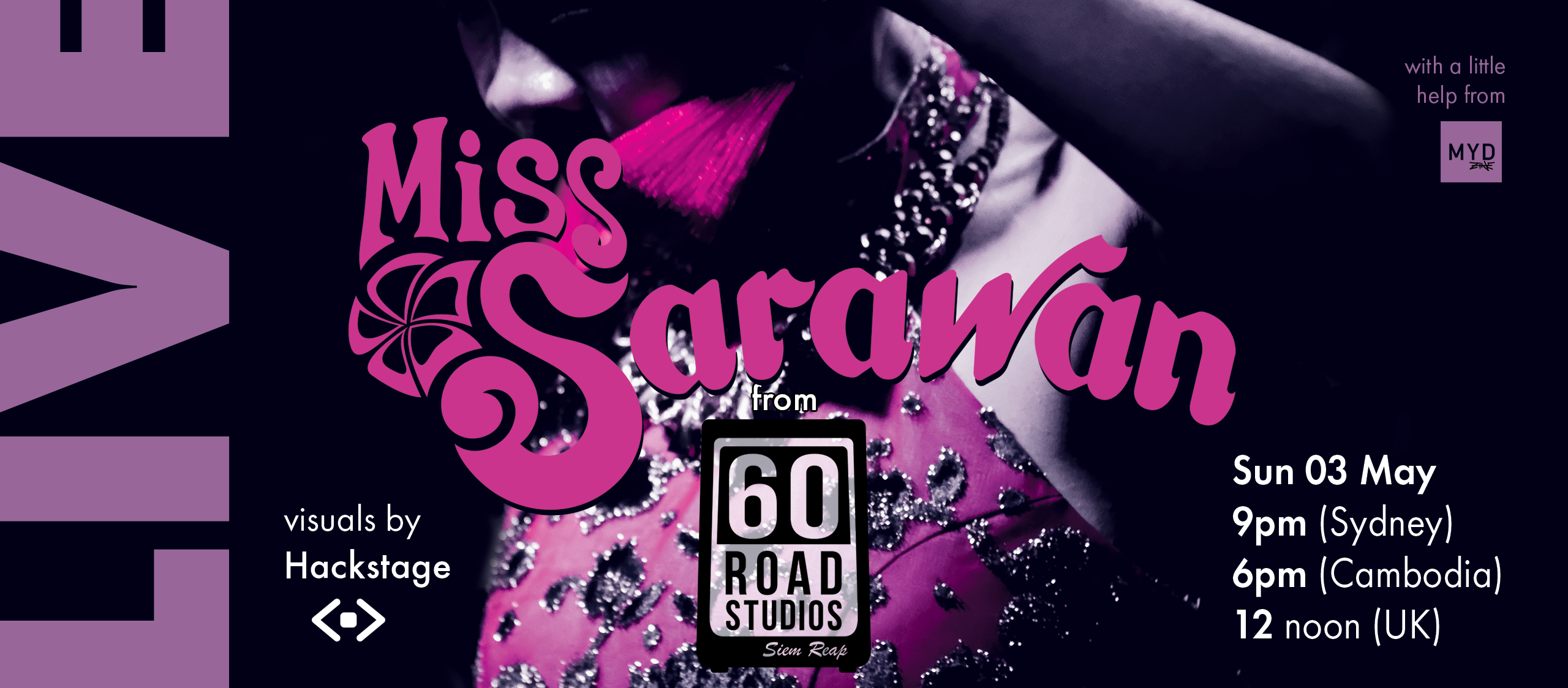 សូមរង់ចាំទស្សនាការប្រគំតន្ត្រី ពីក្រុមតន្រ្តី មីសសារ៉ាវ៉ាន់ (Miss Sarawan Band) ដែលយើងនឺងផ្សាយផ្ទាល់នៅថ្ងៃទី ៣ ខែឧសភា ពីម៉ោង ៦​ ល្ងាច​ ដល់ ៧ ល្ងាច ពីទំព័រហ្វេសប៊ុក
60 Road Studios
(Cambodia) និងគេហទំព័ររបស់យើង
សូមរង់ចាំទស្សនាដោយក្តីរីករាយ !
Please note this is a live-stream event and will be available on Facebook via 60 Road Studios or from the website on Sunday 3rd May 2020 6pm-7pm
Mealea Lay's singing career began within the walls of a Phnom Penh temple where she sought refuge after travelling from her small rice-growing village in Kampong Cham Province, Cambodia. The monks at 'Wat Sarawan' encouraged the diminutive diva with 5000 riel ($1.25) per song.
Mealea doesn't live in the temple anymore, but she still spends her days intoning the rich Khmer catalog, with a voice that evokes the fragile beauty of legendary 'Golden Era' Cambodian singing stars Houy Meas and Ros Sereysothea. Miss Sarawan has since added her own special compositions to the Khmer songbook, bringing the classic Cambodian themes of romance and nature into a 21st Century setting.
For the past five years, Miss Sarawan has delighted audiences around Cambodia with her wonderful voice and songs, reaching an international audience in 2017 with an appearance on the Netflix TV show 'Jack Whitehall: Travels With My Father'.
Miss Sarawan is a long-time musical collaborator with Phnom-Penh based musician Joe Wrigley. Together with Joe, singing twin sister Mealai, drummer Toma and Andre on Bass, the 'Miss Sarawan Band' is formed – bringing to life Miss Sarawan's original compositions and Cambodian classics of the 'Golden Era'